After more than 13 months working as our family au pair, Wynter is leaving us. Long before the sun rises tomorrow morning, we're making the trek to the airport to see her off as she returns to her family in Northern Virginia.
We're not really sure what we're going to do with ourselves in her absence.
It all started in November 2016, shortly after I announced my surprise pregnancy. In the midst of all the excitement and accolades, her mother Stacey — who happens to be one of my dearest friends ever — sent me a pretty straightforward email.
"You are gonna have your hands full. Wynter just graduated early from high school. Want me to send her over to help you out?"
My answer was immediate: YES. Send her over, and we'll figure out the rest.
I knew that Wynter could stay with us for three months as a tourist, using nothing more than her American passport to get to Germany. I figured, at the very least, having Wynter around for three months would help get me through the morning sickness and first trimester fatigue, and give me time to make long-term childcare arrangements for the kids. But even more so, we would have fun showing her around Germany and Europe, just like we did with her older sister a few years before.
So, Stacey and I made the travel arrangements, and Wynter arrived shortly after Thanksgiving.
Of course, the kids were ecstatic. They remembered Wynter from all our adventures with her family in Northern Virginia, and were so happy that she was staying with us for awhile.
And to our delight, Martin and I learned that applying for an au pair visa for Wynter wasn't difficult at all. German law regulates everything regarding au pairs, and the process is very streamlined. By the end of January 2017, we had all the legalities squared away, and Wynter was issued an official au pair visa, good for one full year in the country of Germany with our family.
It's mind-boggling to think a full year has passed already. As we said during dinner tonight, she arrived at our doorstep a dazed and excited 17-year-old just weeks away from her birthday with nothing, but a suitcase and a backpack. Now she leaves us a 19-year-old who visited all parts of Germany, Austria, Denmark, Italy, and France, and can navigate any German city and most European transportation systems.
I'm certain Wynter's leaving Europe with lots of great memories from Germany and with our family. She experienced two birthdays, two Christmases, two fest seasons, and two Faschings! She spent time with Martin's family, my family, and made friends of her own in our community. The list of things she's seen and done is pretty long, and I'm glad she's got an Instagram album full of photos and musings collected over the past year.
But I don't think she can fully appreciate at this stage in her life the things she made happen for us just by being here. She helped our family immensely, in big ways and in small ways, and I hope she knows how much we appreciate it.
In no particular order, here are just a few of those things …
Because of Wynter, my kids enjoyed a consistent sense of safety and security, even with all the changes happening around them this past year. A new baby. A new job for Dad. A new house and new neighborhood. New German schools. A steady stream of friends, and family get-togethers, and visitors from the United States. Weekend trips and spur-of-the-moment family adventures. It's enough to make my head spin, thinking of all the things we juggled this year. Yet, no matter what, the kids knew that Wynter was someone they could count on. They knew no matter where we lived, she would be waiting at the bus stop for them when they got home from school. If things got too crazy at the house, she didn't hesitate to round up the Middles and head to the pool or the park for a few hours. She was like a cool older sister whose only job (in their minds) was to have as much fun as possible on a daily basis. They are going to remember this time with Wynter, and their memories are going to be wonderful because of her positive attitude and genuine affection for them. That is priceless.
Because of Wynter, Martin was able to travel and receive the necessary training and certifications he needed for his new job. That process normally takes three years, and he got it done within 10 months. Childcare is not readily available over here in Germany, not like it is in the United States, and there's just no way he could have accomplished any of that if Wynter weren't here to help me during those times when Martin was gone for training.
Because of Wynter, I was able to finish my bachelor's degree after an 11-year journey! Before she arrived, I had decided to put my education on hold yet again. There was no way I would be able to attend night classes with Martin traveling so much for his job, let alone dedicate energy and focus to working on my assignments while handling the children on my own. But she was a godsend in that department, agreeing to watch the kids one night a week so I could attend my night classes. And those times when I was crashing on a deadline, she ran interference for me, taking the kids to the park or hosting a movie marathon so they wouldn't distract me. I am bummed she won't be here this spring to attend my graduation ceremony, because if it weren't for her, I wouldn't be walking across that stage.
Because of Wynter, our baby boy is smashing through his developmental milestones and climbing his way up the growth charts. I know it's from all the attention and care she's lavished on that little one. She was there when he was born, and for that, she will always have a special place in our hearts, having shared in such a sweet time for our family. She's opined that he will forget her when she leaves, but I truly believe she's imprinted on him. He's seen her face just about every day of his life, and all her goofy faces and chats with him, the dancing and napping, the feedings, and diaper changes, and outfit changes, and bottles and bottles and bottles … all of that has helped shape him into the joyful, chubby little person he is today, and we won't forget it!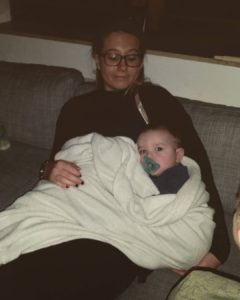 I could go on and on … but lastly, I can say that Wynter was my oxygen mask. She encouraged me to rest more. She worried about my diet (especially during my pregnancy) and prepared dinners I could eat. She encouraged the kids to do their chores whenever she noticed they were slacking. She zipped up coats and handed over gloves whenever we left the house, and reminded me where I last put my coffee mug whenever she noticed me frantically searching for it. Those sorts of things weren't listed in her au pair contract, but she did them anyway, and they meant a lot to me! I'm going to miss having her in my corner, thinking of things I let slip, reminding me of things Martin asked me to do, or pointing out things I hadn't yet noticed with the kids. Like I said in the beginning of this, I'm not really sure what I'm going to do in her absence.
So it should go without saying that we are going to miss Wynter very much. She was always so much more than an au pair to us, having been a family friend long before she became our employee. This past year only sealed it: she is family.
Wynter, I hope you know that no matter where you go or what you do, we love you, we appreciate you, and we are proud of you. You always have a place in our hearts and in our home!
************